Discussion Starter
·
#1
·
Hey, this is great. We finally have our own Ross forum!
First of all, thanks for the invitation over here from the AT forum. Great to share some space with a bunch of fellow Ross enthusiasts! The Ross bows are the best I've ever shot for what I look for in a bow... and they're overengineered to the point of obsessiveness, which is perfect for my obsessive compulsive mentality when it comes to my hunting gear.
I'm 27 years old, live in Wisconsin, and I hunt, shoot 3d, walleye fish, and play a little guitar...
I shoot a 331 setup with the following (don't have a good picture at the moment as my wife is on vacation in Florida with our digicam):
Limbdriver rest
HHA XL-5000 sight
Alpine MR3 stab with a Carbon Impact quick disconnect
MeanV CSS
Limbsaver and Bowjax silencing stuff
Slingbraid Double-Wide bowsling
CarbonTech arrows for hunting and 3d
SlickTrick 100gr magnums for hunting
I currently stroke that Winner's Choice string with a TruBall Copperhead Xtra, but I'm starting to experiment with a couple different Carter thumb trigger releases for 3d... We'll see what happens there. I've got an Ember2 on it's way as my first one to try.
Oh, the other big part of my hunting setup, non-bow related, is a Lone Wolf Sit n' Climb. Without that stand I'm confident that I would not have shot a fraction as many deer.
So that's about it. I'll post a better pic of my rig when the wife gets back with our camera, but for now, here's a picture of a small managment doe I shot the day after I got my 331:
And here's one more I shot the near the end of late bowhunting season: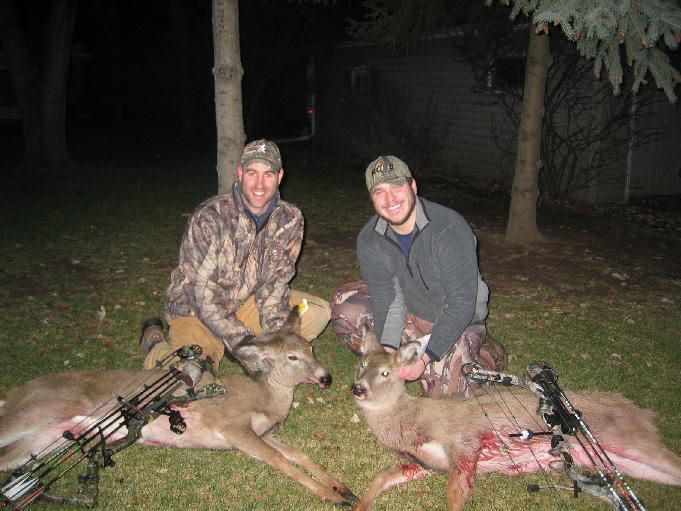 Finally, the buck I shot Nov. 1 with my PSE Nova, just before I bought my Ross 331. I shot this buck, and a couple days later I figured I'd treat myself to the 331 that I had been drooling over for 2 months. By far my best buck to date:
And here's one more of a temporary european mount (until the shoulder mount is done this summer) of that buck with the 331 in the background:
Looking forward to chatting with you guys!