Discussion Starter
·
#1
·
After having the good outing last night at the other fields I decided I would keep a good eye on a field near my spot tonight. I decided to go up and check the woods around the mini foodplot I planted last night. I got to the foodplot and I jumped a deer up. I just took it with a grain of salt. I decided to leave and head back to the house. When i got to the house I saw the deer I had jumped out in the field. Got my binos and looked. As soon as I saw him, I said, "Finally". It's the 8pt in the picture above. His left side is angled up just like it was last year, left browtine has a "hook" in it. He is about what you would expect for him to be. He's already to the edge of his ears and his tines are ALREADY as long as they are in the pictures above. I kinda got to breathe a sigh of relief when I saw him, knowing he hadn't been killed. This deer is truly going to be a MONSTER for my area this year. His browtines were already about 4 inches aswell! I'm pretty pumped for season. Just praying he hangs around and doesnt meet a the front end of a car. I'm going this week to hang stands and put the BIG memory card in the camera. After that I'm staying out as much as possible.
here he is LAST year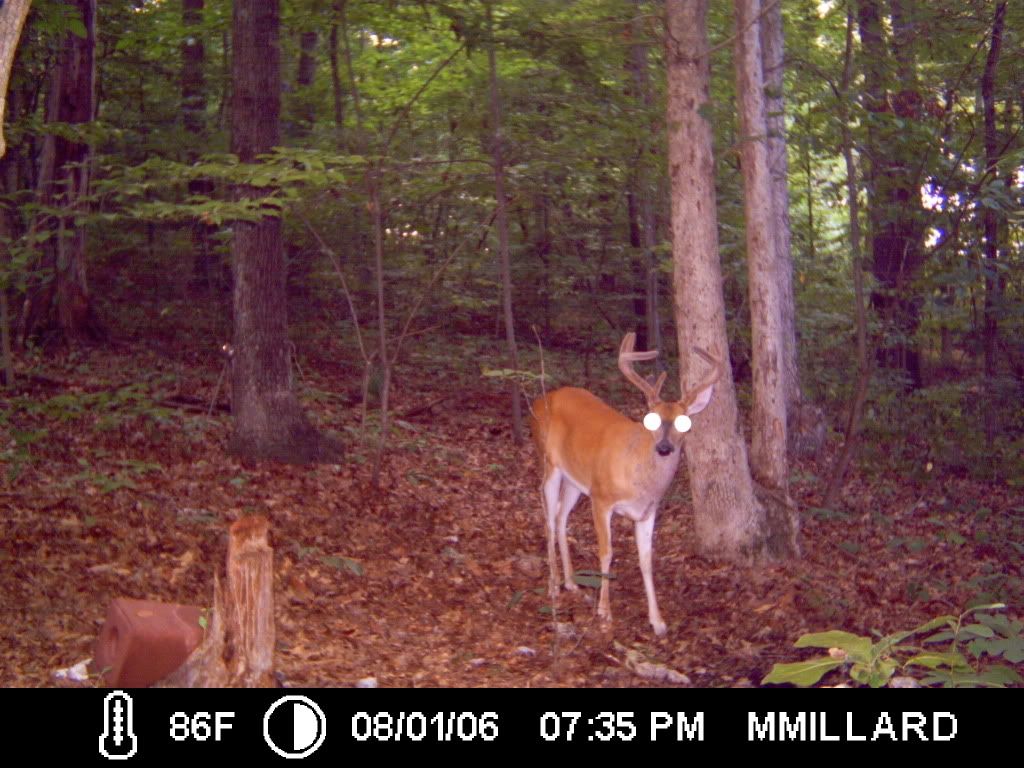 Here is a picture of my miniture experimental food plot we made yesterday. It's just kind of an expirament to see what will grow. It gets pretty good afternoon sun and plenty of water ( assuming it rains). We raked all the leaves back and then hoe'd the ground up pretty good. After that we took the seed spreader and went to spreading. After spreading all of it we took a garden rake and worked it all in. Just an expirament to see what will happen. Kinda hard to see the boundaries in the pic but to give you an idea its about 30yards by about 20ish and then right beside it we made one about 15yds in diameter in an opening in the trees. We'll see how it does in a few weeks. Any ideas of what to plant this fall for winter? For this experamental plot I planted a few different seeds to see what preformed. I mixed, Spring Oats, Ladino Clover, Alfalfa Forage Queen seed, Timothy Derby, and some "No Plow". Ill keep you guys posted on it.
**Mike or someone resize them if you want, I don't know how.**[/img]